HD nuevamente rankeado en
Chambers and Partners 2020
Friday August 16th, 2019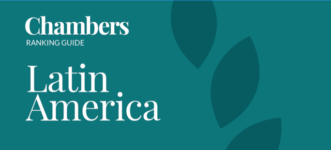 Honorato | Delaveau ha sido rankeado nuevamente por Chambers and Partners en su versión 2020 en las áreas de Mercado de Valores y Corporativo / M&A. Felicitamos especialmente a nuestros socios Gonzalo Delaveau y Sebastián Delpiano.
Son 17 las secciones y cinco las subsecciones que el ranking, considerado uno de los más relevantes del mundo sobre la calidad de los profesionales y estudios jurídicos, contempla para Chile.
Más de 600 nombres repartidos en sus distintas bandas y categorías tuvo este año la sección nacional de Chambers and Partners Latinoamérica, considerado uno de los ranking más importantes del mundo en lo que a firmas jurídicas se refiere y cuya metodología se basa en una investigación efectuada por un equipo de más de 200 especialistas a cargo de entrevistar por correo o vía telefónica a aquellos actores relevantes del mercado legal, especialmente clientes y otros abogados con quienes trabajan.
En nuestro país ya son 17 las secciones incluidas, además de cinco subsecciones. Son estas las que a continuación presentamos, además de las categorías Star individuals, Eminent Practitioners y Senior Statespeople, así como las referidas a profesionales jóvenes Up-and-coming individuals, Star associates y Associates to watch.
La primera —explican desde Chambers— se otorga a los abogados con recomendaciones excepcionales y "claramente por encima de los demás", razón por la que existe solo uno por área, si es que lo hay; en esta edición, por ejemplo, fueron solo tres. Las otras representan a un profesional altamente influyente en una práctica particular, pero que debido a compromisos gerenciales o de relación con el mercado es menos activo en términos de facturación, aunque sigue siendo un "jugador clave en el equipo", mientras que la última refleja a un abogado de trayectoria que posee estrechos lazos con los principales clientes, por lo que "sigue siendo fundamental para el éxito de la firma".
Los tradicionales premios a mejor estudio de la región y de Sudamérica —distinción creada en 2018—, así como los reconocimientos a la oficina más destacada de cada país y a aquellas relevantes por su calidad de servicio serán entregados durante una ceremonia en noviembre próximo.